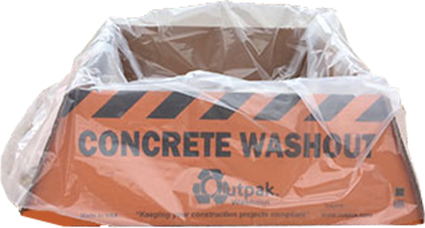 Corrugated Concrete Washout Pan - Outpak 6' X 6' X 12"
FREE SHIPPING
Corrugated Concrete Washout Pan
Model: 945-123406
Brand: Outpak
Size: 6' x 6' x 12"
Material: 350# kraft fiber board w/ 6 mil bag liner
Capacity: 1.33 cu. yds. / 260 gallons
Wash Uses Per Unit: 15
FREE SHIPPING  
Ordering more than 150 units? Contact us for a volume quote. 
Minimum Order Quantity: 30 Units

Other Washout Sizes & Styles Available:
PART #
SIZE
MATERIAL
4' x 4' x 14"
Corrugated Cardboard
6' x 6' x 12"
Corrugated Cardboard
4' x 4' x 14"
All Weather Poly Propylene
6' x 6' x 12"
All Weather Poly Propylene
6' x 8' x 14"
PVC
8' x 10' x 14":
PVC
Portable 6' x 6' Construction Pump Truck Washout
The 6' x 6' washout from Outpak is only 12" high and is designed for pump truck washouts. It can be used to washout concrete, paint, mortar, stucco drywall mud and other contaminants. The washout includes the Kraft fiberboard box and a 6 mil liner which can be reused approximately 15 times.
Easy Setup and Disposal
The washout unit is portable, can be taken anywhere and ships flat. When you are ready to use, simply unfold the water treated Kraft fiberboard on a pallet and cover in the included 6 mil bag. Once the washout dries it becomes solid and at this point the entire contents of the bag can be disposed of in the trash. If faster drying is required, consider the Outpak Slurry Solidifier to rapidly dry and harden the material.
EPA Compliance
EPA fines for non-compliance on material washout at your job site can be extremely expensive and can be easily avoided by installing an EPA compliant Outpak washout.  
Easy Setup
Easy Disposal
  Questions? (800) 748-5647
Downloads