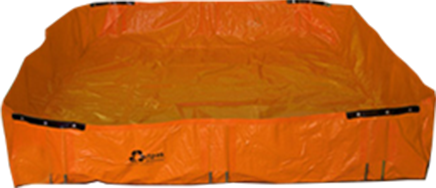 Construction Washout Bin for Concrete - Outpak 6'x8'
FREE SHIPPING

Construction Washout Bin for Concrete
Model: 965-001430
Brand: Outpak
Size: 6' x 8' x 14"
Material: 10 oz PVC
Capacity: 2 yds. / 404 gallons
Wash Uses Per Unit: 30
Note: This product has been discontinued and is not longer available.
 

FREE SHIPPING 

Ordering more than 110 units? Contact us for a volume quote. 

Other Washout Sizes & Styles Available:
This medium-large size concrete washout is designed for 25-30 concrete washouts. This unit is designed to be used with pump trucks and is durable enough to transport from site to site. This washout unit can be can be used to washout concrete, paint, mortar, stucco drywall mud and other contaminants. After a washout the unit can be disposed of or reused until full. The tough 10 ounce PVC material is weather and UV resistant and is an ideal choice in place of a cardboard unit when the washout will be exposed to weather for long periods of time.
Easy Setup and Disposal
When the desired location for your washout is determined, unfold the liner and insert the included L brackets on the sidewalls then install the included tie down stakes through the brackets and into the soil. Once the washout has reached filling capacity it should be left to dry until the contaminants are solid. At this point the washout can be disposed of in the trash. If faster drying is required, consider the
Outpak Slurry Solidifier
to rapidly dry and harden the material.
EPA Compliance
EPA fines for non-compliance on material washout at your job site can be extremely expensive and can be easily avoided by installing an EPA compliant Outpak washout.
 Easy Setup
Questions? (800) 748-5647
Downloads
Product Detail
Product Specifications