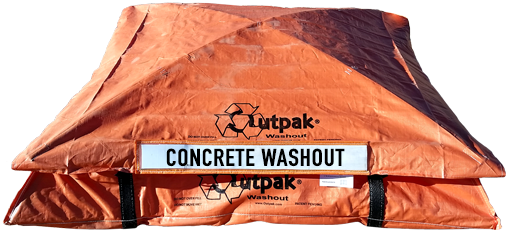 Concrete Washout Box - Outpak 6'x6' All Weather - Portable
FREE SHIPPING
Concrete Washout Box
Model: 950-1236AW
Brand: Outpak
Size: 6' x 6' x 12"
Material: Heavy-duty, woven poly propylene, 5 to 1 safety rated lifting straps and attached rain fly
Capacity: 1.33 cu. yds. / 260 gallons
Wash Uses Per Unit: 15
FREE SHIPPING 
Ordering more than 110 units? Contact us for a volume quote.  
Minimum Order Quantity: 24 Units
Other Washout Sizes & Styles Available:
PART #
SIZE
MATERIAL
4' x 4' x 14"
Corrugated Cardboard
6' x 6' x 12"
Corrugated Cardboard
4' x 4' x 14"
All Weather Poly Propylene
6' x 6' x 12"
All Weather Poly Propylene
6' x 8' x 14"
PVC
8' x 10' x 14":
PVC
The new All-Weather Washout is designed to stand up to the toughest of environments while maintaining its portability, ease of setup, and cost effectiveness. It is made from heavy-duty, woven poly propylene that shrugs off the worst of climates but is still light weight and durable. Additional features include 5 to 1 safety rated lifting straps and attached rain fly. Folds flat for easy storage.
It is designed to be a portable, EPA-friendly solution for containment of hazardous construction site washout material such as: concrete sediment, paint, drywall mud, stucco, and mortar. At a job site, the last thing you want to worry about is setting up a complicated washout for equipment and tools. Our All-Weather Washout, like our Corrugated Washout, is simple to deploy but can sit on your job site through the duration of your project and the worst weather you can encounter. Its patent pending folding design allows it to be stored flat in the back of a pickup truck or strapped to the side of a mixer or pump truck.
  Questions? (800) 748-5647
Downloads