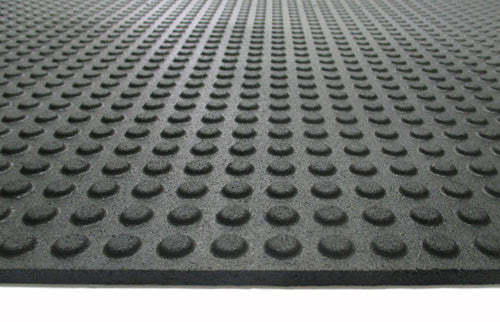 Horse Stall Mat - 4' x 6' - 3/8" Thick - Button Texture
FREE SHIPPING
Horse Stall Mat

Model: MAR6230
Brand: Humane
Size: 4' x 6'
Thickness: 3/8"
Edge: Straight
Surface Texture: Button
Square Feet Per Mat: 24
Color: Black

Order Lead Time: 10-15 Days

Minimum Order Quantity: 20


FREE SHIPPING

NOTE: These stall mats ship directly from the manufacturer in Wisconsin and are not available for will call at other distribution centers. 


Non-Generic Mat 
At Paramount Materials we only sell non-generic high quality horse stall mats which have decades of proven use in the equestrian field. We do not sell generic stall mat material because we believe that it is important that our customers are aware of who manufacturers the mat material that they are purchasing. Generic mats can be composed of inferior quality materials and can deteriorate quickly with regular use. Humane horse stall mats are manufactured in the USA and include a 12 year warranty.
Benefits
Urethane-free
Provides excellent traction
Non-absorbent
Shorter clean up times and lower bedding costs
Made in the USA from 100% recycled rubber
Provides comfort and protection
Antibacterial and anti-fungal
12 year limited warranty
Questions? (800) 748-5647
Humane: A Leader in the Industry
Choosing a high quality stall mat for your horse is essential if you are striving to provide the cleanest, most comfortable and healthiest stall or stable surface possible. Humane Stall Mats are the finest on the market and ship with an excellent 12-Year Limited Warranty. Horse owners around the country have come to trust Humane for their quality and dependability. Their stall and trailer mats are extremely durable and provide a quality appearance. The 100% recycled rubber mats are manufactured from recycled scrap tires in the USA. Humane mats are guaranteed to provide excellent cushioning and high resilience against animal discharge.      
Advantages of Humane Rubber Stall Mats:
Comfort and Safety:
Usually stalls have concrete, clay, dirt or aggregate floors that are hard on animals that stand for long periods of time. A great deal of bedding is required in order to provide the needed cushioning.
Humane Stall Mats are extremely easy to install over any surface and are resilient and durable. These mats offer the very best support and traction while preventing fatigue and reduce stress on your horse's legs, back and muscles.    
Eliminate Waste Based Odors:
Humane Rubber Stall Mats range from 3/8" to 3/4" thick and are tight fitting and will virtually eliminate urine based stall odors. Caulking or adhesives can be used to seam the mats together or bedding can be allowed to pack into the seam area creating a natural caulking. Either way, the urine and waste will pool on the surface and will become absorbed by the bedding. When cleaning the stall you will remove nearly 100% which will in turn eliminate any waste based oder.
Reduce Your Cleaning Time
Humane Stall Mats reduce the amount of bedding required drastically. The mats offer just the right amount of cushioning to support your horse while allowing only enough bedding to absorb waste. Your maintenance costs will but cut in half, saving you both time and money.
Prevents Floor Damage:
When horses paw, they can cause damage to the floors and dirt floors are very difficult to keep up with and clean. Humane rubber horse stall mats will reduce the effects of horse pawing allowing for an even floor while eliminating the need to constantly fill holes.
Other Uses for Humane Horse Stall Mats:
• Horse Stall Mats
• Kennel Flooring
• Dog Runs
• Horse Trailer Mats
• Trailer Flooring
• Livestock Trailer Flooring
• Wash Rack Areas
• Barn Aisle-ways
• Muddy Areas
• Grooming Stalls
• Tack & Feed Areas
• Dog Agility Courses
• Animal Chutes and Ramps  
Downloads
Installation Guide
Cleaning & Maintenance Guide
LEED Information
MSDS
Spec Sheet
Warranty Information