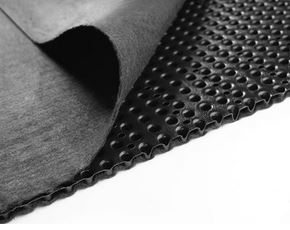 Composite Drain
FREE SHIPPING
Mirafi G100N Drainage Composite - 4' x 50' Roll - TenCate
Model: Mirafi G100N
Brand: TenCate
Size: 4' x 50'
Square Feet / Roll: 200
Geogrid Specifications:  Download Mirafi G100N Specification Sheet

The composite drain is a drainage product that consists of a plastic three-dimensional core attached to non-woven geotexitle fabric. The inner drainage chamber is protected from debris and resists clogging which allows for more water flow than non-tree dimensional products or traditional gravel based drains. One side of the material is fabric and the other plastic. The plastic side can be attached to foundation walls using typical construction adhesives. With a high compressive strength, the composite drain also helps to relive hydrostatic pressure buildup against subterranean surfaces. The composite drain is available in 4' x 50' rolls and ship from both east and west coast warehouses to help to ensure a timely delivery.
Do you need a written quote? Submit a quote request > 
This fabric is produced in the state of Georgia, USA and can meet Build America / Buy America (BABA) requirements when requested. If ordering this fabric for a BABA project be sure to indicate that a BABA fabric is required in the "order message" field on the cart page.
NOTE: Mirafi branded products are ineligible for return or order cancellation once the order has been shipped. If you would like to purchase an equivalent fabric which is eligible to be returned with a standard restocking fee please give us a call at (800) 748-5647.