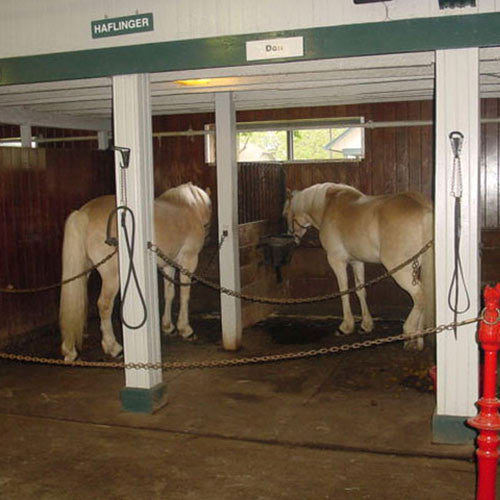 Horse Stall Mats - 10' x 10' Stall Kit - Interlocking
FREE SHIPPING
Horse Stall Mat
Model: MAR1010-75

Brand: Humane
Kit Size: 10' x 10' (Actual Size = 9'10" x 9'10 7/8")
Number of Mats Per Kit: 6
Thickness: 3/4"
Edge: Interlocking
Surface Texture: Diamond
Color: Black
Order Lead Time: 10-15 Days
Minimum Order Quantity: 5

FREE SHIPPING

Horse Stall Mat Kits 

We know when you are looking for new flooring for your horse's stall, aisle ways, and trailer floors you are looking for a mat which is both comfortable for your horse but will also hold up well over time. We offer an assortment of horse stall mats by Humane Manufacturing to meet horse's needs. Humane is widely known for producing some of the finest mats in the industry, has been producing mats for over 40 years and covers their mats by a 12 year warranty.
The Humane water jet cut process for creating an interlocking design offers the very best, tight-fitting rubber horse mats anywhere. All of the mats are manufactured in the USA and offer a non-slip diamond top pattern surface. This design ensures durability that is very long lasting. These mats come with a flat bottom surface that will allow a much cleaner product for a longer period of time.
There is no adhesive required for installation, just lay down the sections onto any hard, flat, level surface and interlock the pieces together for a perfect fit. Our horse stall mats are designed to provide excellent quality and long life. These stall mats are manufactured from 100% recycled rubber.
These stall mats are very flexible and can be utilized for stalls, aisle ways, grooming areas, and on trailer floors. We offer kits for various stall sizes from 12x26 ft to 16x20 ft. If you need a specific size, we also provide customer orders to meet your needs.
Our 3/4-inch thick sections provide a thickness tolerance of =/- .045-inch. See the "actual size" in the specification list above for the actual size of this stall kit.
Using a pH cleaner, simply hose off the mat to keep it clean.
Benefits
Urethane-free

Provides excellent traction

Non-absorbent

Shorter clean up times and lower bedding costs

Made in the USA from 100% recycled rubber

Provides comfort and protection

Antibacterial and anti-fungal

12 year limited warranty
  Questions? (800) 748-5647
Downloads
Installation Guide
Installation Diagram
Cleaning & Maintenance Guide
LEED Information
MSDS
Spec Sheet
Warranty Information