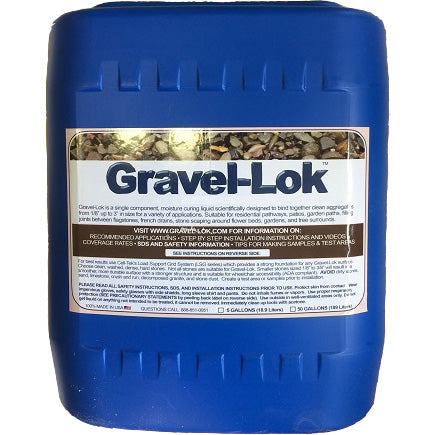 Gravel-Lok - Clear Color - 50 Gallon
FREE SHIPPING
Gravel-Lok - Clear Color - 50 Gallon Drum
Model: GLK-CD
Brand: Cell-Tek
Size: 50 Gallon
Note: Please allow a 7-10 business day lead time prior to shipping for 50 gallon gravel lock drums.

NOTE: This product is ineligible for return or order cancellation once the order has been shipped.
Gravel-Lok is a Polyurethane Based Gravel Binder.
Why it matters: Polyurethane binders perform far better long term than low-cost water based gravel binders. Additionally, due to their decreased strength, water based binders are not suitable for regular foot or vehicular traffic without frequent re-application.
Coverage Area: Download Coverage Guide
Product Brochure: Download PDF
Stone Scaping Brochure: Download PDF
Color Comparison (Amber vs. Clear): Download PDF
Pour Method Installation Guide: Download PDF
Order size larger than $5,000? 
Please contact us for a volume quote > 
Do you need a written quote? Submit a quote request >