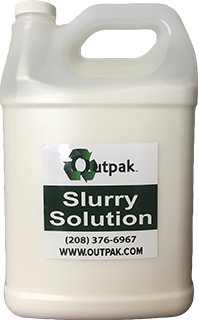 Outpak Slurry Solution Solidifier (4) 7 lb Bottles
FREE SHIPPING
Model: 942-SS28-4
Brand: Outpak
Bottle Size: 7 lb
Number of Bottles Included: 4
 FREE SHIPPING
Ordering more than 72 bottles? Contact us for a volume quote. 
Specifications
Box of (4) 4 lb bottless
Each 4 lb bottle can absorb 80 gallons of water
Environmentally friendly
Made of organic materials
EPA complaint
For water based products
Washout Hardening Powder
The Slurry Solidifier Solution by Outpak is design to absorb excess liquid quickly into a dry, easily picked up material with residue. It is ideal for use with floor polishers, core drillers, concrete washouts and wet saw cutters. Once hardened the end result is an EPA compliant material ready to be disposed of in a trash container.
Easy to Use
The slurry solution can be added to a washout container or directly applied to a surface. The material does not stain floors or leave a slippery residue.
EPA Compliant
EPA fines for non-compliance on material disposal at your job site can be extremely expensive and can be easily avoided by using a dependable slurry solution to pickup liquid residue and disposing of the waste correctly.
  Questions? (800) 748-5647