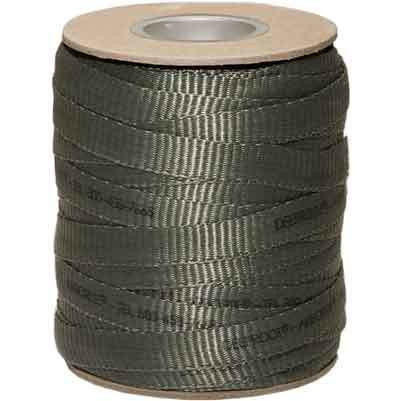 ARBORTIE STAKING AND GUYING MATERIAL - GREEN
FREE SHIPPING
FREE SHIPPING
ArborTie is a revolutionary material for staking and guying trees. Specifically designed to replace traditional methods such as wire and hose, ArborTie is safe, soft, easy to use and less expensive than traditional tree ties.
The soft polypropylene materials have an exclusive weave that ensures a rounded edge at all times. This prevents the material from ever cutting into the bark of the tree, which is a common cause of injury or death to young trees. The weave also prevents ArborTie from unraveling like rope or string.
Girdling is eliminated and the olive green color blends well with the surroundings. The 900 lb. test strength stands up to fierce winds while providing enough sway to help the tree develop trunk strength. Contractors love the easy installation and convenience of the 250', 500', and 3000' rolls. ArborTie fastens to any stake or anchoring system with traditional knots or nails. For guying ArborTie eliminates the need to flag or cover guywires and our proven ArborKnot expands as the tree grows in caliper, preventing girdling. ArborTie is the best method of staking and guying commercially available.
Also available in maximum strength, high visibility white.
FEATURES
Easy installation: faster and easier to install than traditional tree ties
Economical: low cost in comparison to traditional staking and guying methods
Versatile: ideal for street trees, orchards, landscape trees and many other uses
Eliminates tree girdling: completely safe for trees
Strong and Flexible: Promotes stem growth yet has a break strength of 900lb.
Convenient sizes: available in 100' (30.5 m), 250' (76.2 m), 500' (152.4 m), 750' (228.6 m) and 3,000' (914.4 m) rolls to fit any job
Made in the USA
PRODUCT MATERIAL AND DIMENSIONS
ArborTie Flat woven polyester material
3/4" (2 cm) wide, 900 lbs. (409 kg) break strength
Lock stitch with rounded weave