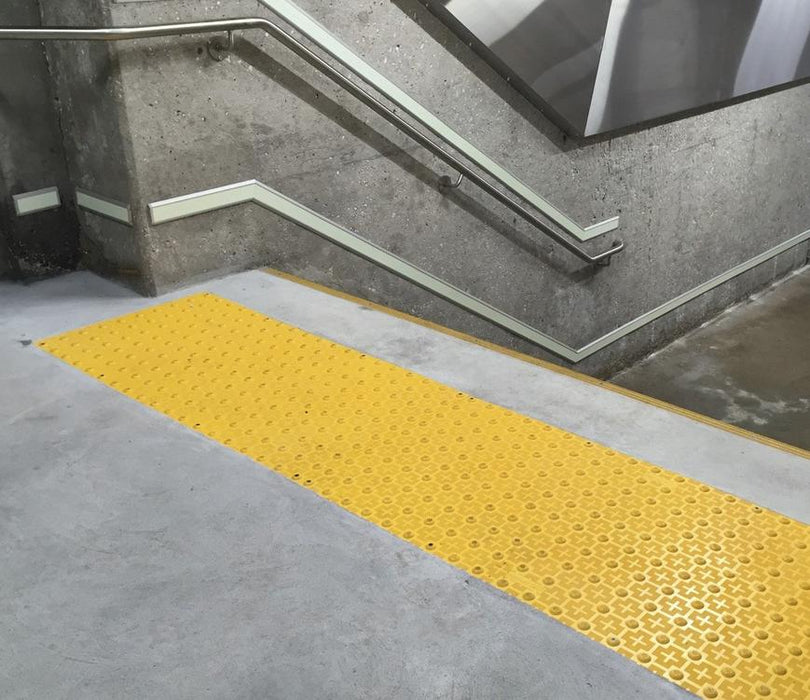 ADA Access Tile - 1' x 1' Mat - Cast in Place
FREE SHIPPING
ADA Access Tile - 1' x 1' Mat - Cast in Place

Model: TD-1X1-CIP
Brand: Access Tile
Size: 1' x 1'

FREE SHIPPING
Truncated Domes are a commonly used underfoot detectable warning surface to alert visually impaired pedestrians of their proximity to potentially hazardous walking transitions. When using a White Cane the person has both an audible and tactile sense of the obstacles around. Variable surface ADA tiles are commonly placed in and near:
Sidewalk curb ramps,
Crosswalks,
Parking areas,
Top of stair landings,
Transit platform edge dropoffs,
Wheelchair ramps
Escalator approaches.
All of Access Tile Truncated Domes are certified ADA compliant.
The Surface Mount tiles can be installed at any time and do not need to be placed in wet-set concrete. These units are considered a "Retrofit" on existing pathways.  Installation requires drilling of anchors and application of Tactile Seal & Bond adhesive on the entire back along with an ~1/4" bead around edges of each tile.
*
One Tube of Adhesive is included per tile, however, this is typically used up when bonding the tile to the ground substrate, and additional Tactile Bond & Seal are typically required for sealing of the tile perimeter.
RULE OF THUMB
: ~1 additional tube consumed for every two 2'x4' tiles.